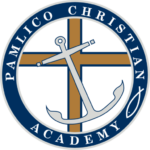 Pamlico Christian Academy
P.O. Box 68
Grantsboro, NC 28529
Phone: 252.745.0462
www.PamlicoChristianAcademy.org
January 20, 2023 
Dear PCA Family, 
We are excited to celebrate another year of academic, spiritual and personal growth in our students! We have always considered Pamlico Christian Academy to be a training ground for growing disciples of Christ and this is reflected in our approach to shaping the faith of our students. Our word for the year is "trust." Our collaboration with Community Bible Study© makes our Bible curriculum applicable to everyday life. This year's Bible Study is titled "Red Sea to the Jordan River." Through studying more about Moses and the books of Exodus, Leviticus, and Numbers, we have been able to shepherd students in their understanding of God's Word, ability and strength. During our study, students have been inspired and are grasping the application of trusting God's plans, reflecting on His promises and remembering His faithfulness. 
This fall, we continued with our second annual "Operation Christ's Love." This is an extension of our annual Serve ENC project, where students and staff serve many local organizations in our community by collecting items of need, while our Kindergarten classes serve children around the world. Some of the organizations positively impacted, during the Christmas season were Religious Community Services, Coastal Women's Shelter, Operation Christmas Child, Carolina East Medical Center ER and Pediatric Ward, Hope Clinic, RPHC Food Pantry, RMC Food Pantry, The Gardens of Pamlico, and Grantsbrook Nursing Home. Through these projects, we pray that our students develop character, confidence, leadership and a deeper heart for service. Both Upper School and Lower School partnered with our PTO to host a family-centered Christmas event which included a Live Nativity, Christmas Carolers, facepainting, fun craft tables, and a Mariners Market with local vendors. It was a wonderful night for our PCA families and our special community. We also made our first appearance in the Bayboro Christmas Parade! 
PCA continues to sustain its focus on reading and writing at each grade level with an infusion of technology and hands-on learning in math and science. Our technology classes have been working on mechanics, keyboarding skills, research quality, as well as how to apply technology to everyday life. Recently, a group of students took a trip to BOSCH to observe, first hand, the manufacturing process and robots being used to build dishwashers and stoves. 
Physical Science students have been studying exothermic and chemical reactions and added a little spice to the learning experience by creating gypsum and elephant's toothpaste. Earth Science class took a field trip to Shenandoah Caverns in Virginia to deepen their knowledge on rocks, volcanoes, and earthquakes. 
Another highlight of our fall semester was our middle school History classes' Living Wax Museum, an immersive and engaging way for students to learn and share more about historical figures and their contributions to society. History students also participated in the interactive Colony vs. Crown game, where their characters participated in battles and ended the game with a peace treaty. English students delved deeper into poetry writing by combining the story of Christ's birth with "The Night Before Christmas" to produce a skit that was performed as a rap for both campuses. New this year, our Health class had opportunities to put their culinary skills to work at our current Upper School Campus based at Pamlico Community College. 
Our partnership with Pamlico County High School allows our students to dual enroll, taking online electives and thus participate in drama, JROTC, football, golf, baseball, and cheerleading. Through this partnership, one PCA senior recently signed a letter of intent to play baseball at Virginia Wesleyan University, where he received an academic scholarship. The Career and College Promise partnership with Pamlico Community College allows juniors and seniors to begin their occupational or college transfer pathway as dual-enrolled students by earning college credit and saving families thousands of dollars in higher education costs. PCA has continued its partnership with the Pamlico County Public Library as we continue to explore the many resources which they have to offer our students and community! 
PCA has continued our membership in the Mid Atlantic Christian Athletic Association (MACAA). We had another incredible cross-country season. This fall, our team secured a few first and second place wins. Our boys took fourth place at the Middle School State Championship, while overall, our team came in third place within our conference. Every runner had an amazing season with multiple personal records being broken at every race. This year, our volleyball team was comprised of enough players for both JV and Varsity. Basketball season is in full swing, with a Girls JV and Varsity team, and a Boys JV and Varsity team. Our Lower School team has had the unique opportunity to partner with Upward to have our own PCA team to gain experience while learning the fundamentals of the game. This is just another reason we are so thankful for our community partnerships, as we believe that we are better together. We are so proud of the hard work and perseverance our student athletes displayed. And we're excited to offer non-conference, club-style Upper School Girls Softball this spring! 
We'll host our fifth annual #ServeENC day in May with a focus on serving our local communities. This year, our board has continued working closely with an architect, meeting with a Capital Campaign Manager, and creating a building committee which is underway to 
finalize future plans. We are so excited about this new endeavor for Pamlico Christian Academy! With this being PCA's 13th year in operation, we give thanks to God for His guidance and provision every step of the way. None of this would be possible without the support of our PCA families, an incredible staff of dedicated people who educate and nurture our students on a daily basis, and our many donors, sponsors, churches and families who contribute above and beyond annual tuition. The Lord has truly blessed us through the generosity of our staff and community, making it possible to excel in what we do as a school. On March 1st, PCA will welcome our new Head of School, Mr. Earl Sadler, Jr. We look forward to having Mr. Sadler at the helm! 
Board members and staff have worked to maintain affordable tuition for our families through fundraising and cost savings. Note chart of Fiscal Year-End 2022 Expenses breakdown. Please see 2023-2024 PreK-12 Tuition and Fees. To re-enroll for the 2023-2024 school year please complete the Re-Enrollment Form.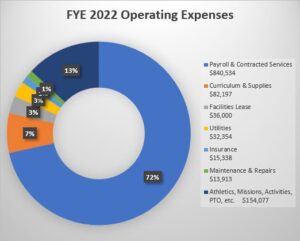 Because the PCA Board of Directors employs staff for the upcoming school year based on enrollment, timely re-enrollment is critical to short and long-term planning. Current students may re-enroll for $150 through February 20th during half-price priority enrollment and for $300 thereafter. Re-enrollment after February 20th will be based upon space availability, and all enrollments are contingent upon Head of School approval. Because space is limited, it is crucial that returning families secure their spot for the upcoming school year as new students will be admitted beginning February 21st. Thank you for choosing PCA! We are committed to raising up the next generation of lifelong learners and leaders that love Jesus, their families, and their community in a way that preserves our future. 
In His service,
Pamlico Christian Academy Board of Directors