Admissions Process
Our admissions process is as follows: 1) Fill out a pre-application form and submit an application fee to our office. 2) Our Head of School will contact you to schedule an interview for you and your prospective student. 3) Once you receive a notification of admittance, you will fill out a full Application for Admission and submit your registration fee to our office. We are excited that you are interested in admission to our school! To read about our Admissions Process in more detail, click here.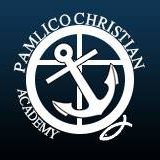 Uniforms Policy
Pamlico Christian Academy adopts a school uniform policy. The purpose of the uniform is to foster a sense of unity among the students, to provide a consistently attractive and neat appearance for all students, to avoid peer pressure in matters of dress, and to draw less attention to oneself. Purchasing information for logo shirts can be accessed by clicking here. Read more about the Uniform Policy by clicking here.
Change your child's life...
Enrolling at Pamlico Christian Academy will change the course of your child's life in a positive way both now and for the future. Contact us today to find out how!